Used Wedding Rings
Where to Find and Shopping Tips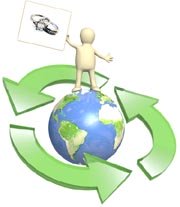 Used wedding rings often come with an affordable price tag, and in addition to low prices many gently owned rings are extremely unique. For couples looking for low-impact eco-friendly wedding rings, pre-owned rings are an excellent option too!
Whether you are searching for inexpensive wedding rings, eco-friendly rings or even unique vintage engagement rings, here you will find essential shopping tips and recommendations for quality used wedding rings that match your style and your budget.
And if you have any questions at all about pre-owned wedding rings, just use the handy comment box at the end of the page to send in questions, comments, reviews and even pics of your fabulous used wedding ring!


Best Places to Find Used Wedding Rings
One of the first steps you can take to find high quality used rings for the right price is to start your search with reputable retailers and jewelers that specialize in used jewelry. With that in mind, here are EWR's top recommendations on where to find reasonably priced premium used wedding and engagement rings.


In addition to creating handmade wedding and engagement rings with eco-friendly resources, BE maintains a beautiful selection of vintage and antique wedding rings. Couples can find antique diamond rings and wedding bands from as early as the Victorian era all the way up to vintage engagement rings and modern estate wedding rings from the 1990s. BE is one of the few places where you can find complete genuine vintage wedding ring sets for very affordable prices too.


As the name goes, I Do Now I Don't is a forum where used rings are sold and bought along with used wedding dresses and other types of wedding items. As with eBay, this third party store offers escrow-like services for ring purchases which protect both the buyer and the seller. And this is a terrific resource for not only used engagement rings but also for pre-owned wedding ring sets and men's wedding bands.


For used wedding bands, pre-owned certified diamond engagement rings, used designer rings and gently worn wedding ring sets, eBay has a huge selection of rings. But couples do need to use extra caution shopping here as sellers are not scrutinized as closely as with I Do Now I Don't. That being said, couples can find an extensive selection of used rings here - just keep the shopping tips below in mind and make sure that any used diamond ring comes with a certification from a reputable laboratory like the GIA, AGS, IGI or EGL.


Adin has one of the largest selections of modern, estate, vintage and antique wedding rings available online. In addition to free ring sizing options, couples can also find plenty of rings in excellent condition and priced from low to high including those from the Georgian, Victorian, Edwardian, Art Nouveau and Art Deco eras. And now, EWR is very excited to announce that Adin is giving a 5% discount on all jewelry purchases to our visitors - just use code=Everything-Wedding-Rings at check-out to take advantage of this special offer! (To see EWR's favorite Adin finds, just click here).


Used wedding rings and engagement rings are not as prevalent on Etsy, but it is still possible every now and then to find used vintage rings in good condition here. But as with eBay, use extra caution as Etsy sellers are not scrutinized closely either. 


Local Resources for Used Wedding Rings

Local pawn shops can also be a terrific source for used rings, especially for used wedding ring sets and used men's bands. But again, rings should come with certification and/or authentication papers from a reputable resource.
What about purchasing used wedding rings on Craigslist? For now, EWR strongly recommends avoiding this option. While it is possible to find quality used rings on Craigslist, there are a lot of risks associated with purchasing rings directly from an unknown person.
First, there is no secured protection or guarantee for your purchase. So, if you are not happy with the rings after their purchase, or you find that you overpaid for the rings, or even if you discover that the rings are not made with real diamonds, gemstones or gold, there may not be any way to return the rings. 
Second, there have been instances - though only a few - of people being robbed and assaulted when they tried to sell and buy rings using Craigslist. 

With so many other options available, it is best to choose safer and more secure recommendations for used rings.

And now, on to essential shopping tips!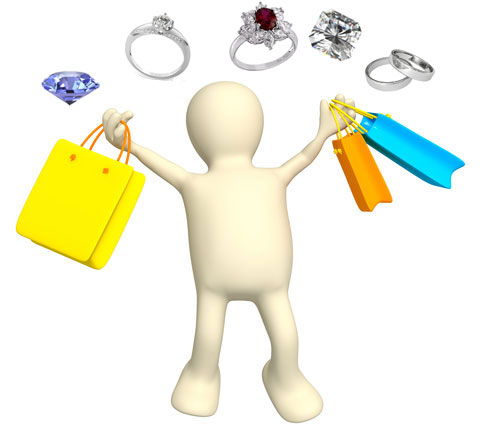 Shopping Tips for Used Wedding Rings
Three main things to keep in mind when shopping for used rings are ring sizing considerations and the types of metals and materials the rings are made with. 
1. Sizing
While most used wedding rings can be resized, some types of bands cannot be sized due to their design - and large changes in band sizes can be challenging or even impossible on some types of rings. If you are interested in rings that are not the right size, check first to make sure the rings can be sized before you buy and call a few local jewelers to get an estimate on how much the sizing may cost. (Brilliant Earth, Turtle Love, Portero and Adin size rings. Adin will size rings for free, while the others charge a small fee for the service).


2. Wedding Ring Metals
By far, platinum is the most durable wedding ring metal followed by palladium and 18k gold. Rings made with 14k and 10k gold are also quite durable, as long as they are crafted with excellent workmanship.
Avoid any used rings that are made with silver, platinum or gold plate - like brass or copper rings coated in a thin layer of silver or gold....or even silver rings plated with gold or platinum.
Rhodium plate is to be expected on any white gold ring, and this plate will need to be replaced on every day rings about every one to two years. Before investing in a used white gold wedding ring, consider whether you'll want to keep up with regularly re-plating the ring.
Rings crafted with white gold can contain nickel. If you have a nickel allergy, stick with used rings made with platinum, palladium, silver, rose gold or yellow gold.


3. Wedding Ring Gemstones and Diamonds
It is not uncommon to see diamond rings for sale with comments from the seller like:
"I have the original certificate report, but I can't find it right now."
"The original diamond certificate was lost, but it is a real diamond."
"The certificate was lost, but will cost (so many dollars here) to re-order. You can re-order another certificate if you want."
And whether these statements are true or not, with so many used rings on today's market you do not have to risk purchasing a diamond ring without a diamond certification report issued by a reputable laboratory.

A grading certificate issued by a reputable laboratory is a must with used diamond rings - and not just any certificate either. Ideally, choose a used diamond ring that has a certificate issued by either the Gemological Institute of America (GIA), the American Gem Society (AGS), the International Gemological Institute (IGI) or the European Gemological Laboratory (EGL) - with the GIA and AGS being the top two recommended diamond certificate laboratories. 
Likewise, if you are purchasing a used gemstone ring make sure the ring comes with a certificate of authentication or appraisal from a certified gemologist or from the AGS.
Keep in mind too that even synthetic man made diamonds should come with a diamond certification report - ideally from the GIA. Diamond simulants though will not come with any type of report.

With used antique or vintage diamond rings, the rings may not be available with a diamond certification. This is because mounted diamonds cannot go through the certification process, they have to be removed from the rings. If a diamond certification report is not available with the ring, make sure the ring comes with a legitimate appraisal or certificate of authenticity instead.

Extra Tips to Keep in Mind While You Shop For Used Wedding Rings
Last but not least, these important tips will help to ensure that you are purchasing a quality ring for the right price:
Ideally, it is best to purchase a used ring which comes with the original receipt of purchase - especially if the ring is only a few years old.

If you are purchasing a used ring, whether from a retailer, a private individual or online, a refund policy should be available with the ring. (If the ring is resized though, it may not be possible to return the ring for a full refund).

Used designer rings should come with certificates of authentication, diamond grade reports, plus identifying stamps on the inside of the bands. Original ring boxes too are highly desirable. If you are purchasing a used designer ring, just take a look online to double-check what type of maker's mark you should see on the ring's band.




Alternatives to Used Wedding Rings
If you are looking for inexpensive wedding rings, and just can't seem to find the right used rings, there plenty of affordable alternatives.
Rings made with high quality diamond simulants Moissanite are made to last and priced quite affordably too. Rings made with contemporary metals like Titanium and Tungsten and Cobalt are also an excellent option too, especially for durable low cost men's wedding bands.
You may also want to consider a ring made with an enchanting - but affordable - gemstone. Take a look at EWR's handy Gemstone Wedding Ring guide for properties, characteristics and price guides for gemstones strong enough to hold up to daily wear. A few affordable and stunning examples include aquamarine, amethyst, morganite, watermelon tourmaline, topaz and iolite.
For Affordable Diamond Wedding Rings, take a look at this page to see how to choose more affordable diamonds, and diamond ring styles, without compromising on the look or durability of the diamond.


Do you have comments or questions about used wedding rings?
Send in your questions and comments, or share pics your beautiful used wedding ring find here!

I will post answers to your questions as soon as possible!
Comments and questions from EWR visitors
Click on the links to see comments and answered questions...

How to tell if an appraisal is legitimate? Not rated yet
I was planning on getting a ring on Craigslist. They already got the rings (engagement/wedding band) appraised. How to tell if their appraisal is legitimate? …

Return from Used Wedding Rings to Affordable Engagement Rings
or