What Era Is This Ring?
by Anna
(Canada)
What a wonderful site I'm so glad I found it. I have purchased this ring,it's still not in my possession anxiously awaiting for it to arrive. But I am curious to know what era is it from, my guess is Victorian.

All I know about it is that it is 9 carat gold, the stones are sapphire and diamond and it does have a hallmark. I don't know what the hallmark is - will have to see when it gets here. Can you tell just by the picture what era it is?

Thank You!


Hi Anna,
What a beautiful ring! Unfortunately, it is too difficult to say exactly when the ring was made by looking at the picture. The hallmark symbol though could yield a wealth of clues about the ring including when it was made. A maker's mark or stamp should be next to the hallmark symbol as well, and if identified this mark can offer clues on who made the ring.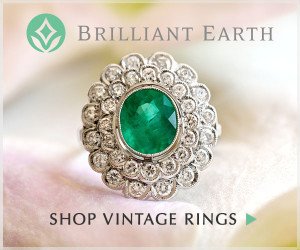 Going from the description of your ring, it is most likely dated anytime after 1854 - because after this time, other types of gold carat jewelry pieces - like 9 carat gold pieces - became legal to create and sell. Before that time, most rings were made with 18 carat gold.
From the delicate light style, use of gemstone and type of gold, it is also most likely that the ring is a late Mid-Victorian era ring or an early Late-Victorian era ring: possibly made sometime around 1870 to 1900.
During this time, rings began to take on a lighter and more delicate tone - and the use of gemstones, including birthstone gemstones, in engagement ring designs were quite common. Natural themes too, including flower and star patterns, were common during this time as well.
I hope this info provides a little more insight about the ring - and do write back if you have any additional questions about the ring or if you are able to identify the hallmark and/or maker's mark on the inside of the ring.
Thanks again for sharing your beautiful ring with us!
Suzanne Gardner
Everything Wedding Rings