Antique Rose Gold Wedding Ring
by Wendy
(Hornell,NY USA)
I was married this past August 27th, and I would love to talk with someone about my antique wedding band and maybe get an appraisal.

We found it in a small town next to our city. On our honeymoon I showed several antique dealers the ring, and many told me it's rose gold, 1890's, and British. It has beautiful markings, they look like maybe the tops of cornstalks and the other looks like 2 maple leaves with the bottoms put together.

If you could tell me anything about my much loved beautiful wedding band please do so.


Hi Wendy,
I'm so happy to hear that you love your wedding band - it sounds lovely!
Regarding extra information on the ring, from the info you provided it sounds like your ring could be a Mid-Victorian piece.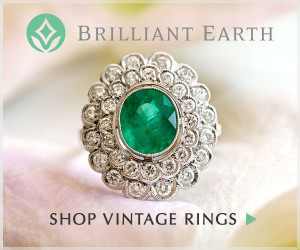 Mid-Victorian rings were made between (approximately) 1860 and 1885. This is the time when rose gold was widely introduced to jewelry markets, and some of the earliest rose gold rings are from this era.
The design of your ring - particularly the cornstalk and maple leaf like motifs - is also indicative of a ring from this period. Natural themes - including flowers, acorns etc. - were very popular at this time.
Does the ring have any type of engravings or markings on the inside? Hallmark and maker's mark stamps could help to offer further clues about when and where the ring was made.
The value of the ring will depend on the type of rose gold it is made with - for example, 9 carat, 15 carat or 18 carat rose gold - the workmanship of the ring, and the condition of the ring.
Most Mid-Victorian gold bands though - those without any gemstones or diamonds - are priced in the under $2,000 price range.
To narrow down when exactly the ring was made, where and by whom, you would need to have the hallmark and/or maker's mark examined and identified - if they are present on the inside of the ring.
I hope this information has provided a little more insight into your wedding band - and do write back if you have any additional questions.
Thanks!
Suzanne Gardner
Everything Wedding Rings