Value of Iolite Art Deco Ring
by Deb Johnson
(Vancouver BC Canada)
Does anyone know what a 3.5ct iolite Art Deco ring with 10 square cut diamonds (total of 1.05 ct) is worth? Beautiful design and want to sell it.

Thank you
Deb


Hi Deb,
Unfortunately, it is impossible to provide an accurate value estimate of your ring with the information provided.
I can tell you that Art Deco rings are highly desirable right now, and the increased demand for authentic Art Deco rings will help to raise the value of your ring – but the value of the ring based on the diamonds, carat, and band materials could vary widely.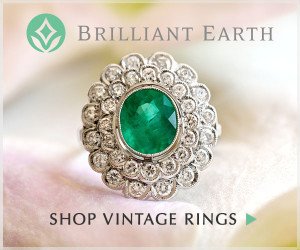 Factors which can affect the value of your ring include the cut, clarity and color of the iolite gem and the diamonds in addition to the type of metal the band was created with. The quality of the setting, and workmanship of the ring, will also affect the appraisal of the ring.
The cut, clarity and color of an iolite gemstone have a big impact on the stone's value. Because iolite is difficult to cut, a stellar custom cut which highlights the gemstone's color qualities will dramatically increase the value of the gemstone. Dark violet iolite gemstones are also valued more than the lighter steel colored iolite gemstones.
Whether the band was made with platinum or white gold can also affect the value of the ring by hundreds of dollars.
The best thing you can do before you sell the ring is to have the ring appraised by a local jeweler who specializes in antique appraisals – you may even want to see 2 different jewelers to ensure an accurate appraisal price. With a professional estimate on the ring's value, you can be assured that you are selling the ring for the right price.
Best of Luck with selling your ring, and do write us again if you have any additional questions!
Suzanne Gardner
Everything Wedding Rings