Popularity of the Pear Shaped Ring
Is the pear shaped ring less popular these days?



Hello,
The pear cut for diamonds and gemstones has never been one of the most popular shapes for center stones on wedding and engagement rings. It is a very unique shape which offers a different take on the more classical engagement ring styles like the round brilliant or the princess cut.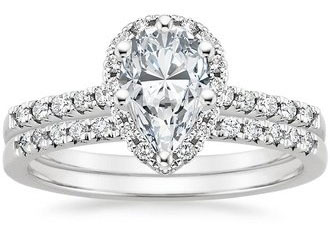 Find Pear Diamond Engagement Rings at Brilliant Earth!
In addition to being quite a unique cut, the pear is a very old diamond cut first created over 500 years ago. Since that time, pear cut diamonds and gemstones have mostly been featured in drop earrings and necklaces. Even though this shape has never been one of the most popular shapes for rings, pear diamonds and gemstones have continued to make an appearance throughout the history of engagement rings.
When pear gemstones and diamonds, also sometimes known as teardrop diamonds or gemstones, are used for wedding and engagement rings, they are more often utilized as side diamonds to compliment a round center diamond. So, for couples looking for a unique engagement ring – a ring featuring a pear shaped diamond or gemstone will definitely be a great choice.
In the past year though, pear shaped engagement rings have moved to the number 8 spot among the Top 10 engagement ring gemstone and diamond shapes. Here is a breakdown of the top 10 engagement ring styles and where the pear shape fits in:
1. Brilliant Round
2. Princess
3. Emerald
4. Asscher
5. Marquise
6. Oval
7. Radiant
8. Pear
9. Heart
10. Cushion
I suspect, that the pear is on this Top 10 list both due to its unique shape (more couples are searching for engagement rings that feature a unique style or gemstone shape) and because the pear – even though it is a fancy cut – is quite a dazzling cut which displays plenty of flash and brilliance....even more so than other types of fancy diamond shapes including the cushion and emerald.
Colorful gemstone engagement rings have also been increasing in popularity in recent years, and a number of gemstones look stunning in pear cut gemstone engagement ring styles including blue topaz, aquamarine, emerald, tourmaline and citrine to name a few.
Find Pear-Cut Gemstone Rings at Gemvara
Throughout its history the popularity of pear diamond and gemstone shapes on engagement rings has never really changed much. It has always been a very unique and eye catching style – but, in recent years the pear shape has slightly grown in popularity especially for center stone pear shaped engagement ring styles.
I hope this answers your question - and do write back if you have any additional questions!
Suzanne Gardner
Everything Wedding Rings