Looking for a Simple Wooden Ring
by Adam S.
Hello, I was just beginning to look for a wooden ring from Victorian or Edwardian times. Could be wooden/metal or a replication as well. If you could help out that would be awesome.


Hi Adam,
Unfortunately, most rings with any type of wood in them from the Victorian or Edwardian times have not survived in good condition. Rings from these eras were crafted around 1837 to 1910. Plus, most rings from these times were made from silver, gold and platinum.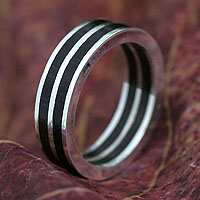 Find Handcrafted Wood Wedding Rings by Novica Artisans!
Men did not usually wear wedding rings during these times, instead they often wore signet rings or large bold rings made with eye catching gemstones to showcase their wealth and social standing or rank. (Wedding rings for men did not become common until World War II). Simple men's rings from the Victorian and Edwardian times were just not that popular. The men's rings from these times were big, bold and beautiful - and rarely simple.
If you are looking for a simple wooden ring or metal ring, I would recommend buying a wood ring that was recently crafted in a style you like. Check out our page
Wooden Wedding Rings
if you would like more info on today's wooden wedding rings.
Alternatively, you could browse around estate sales or antique auctions - and maybe someday you will find a ring that would suit. You may also want to check out
Adin Fine Antique Jewelry
and search for men's antique, estate and vintage rings. Adin carries a lovely selection of rare men's rings - and our visitors can receive a 5% discount on purchases with the
code=Everything Wedding Rings
.
I hope this info is helpful for you, and good luck on your search!
Suzanne Gardner
Everything Wedding Rings
I Love My Wooden Wedding Ring!
Well you see a few years back my now husband proposed to me with a very unique wooden wedding ring. I loved it and it was so absolutely amazing.

It's a painted band but I love it. I mean maybe a tree died in the process but I got exactly what I wanted. How amazing my life has been since I've gotten the wooden ring. Wooooo-Hooooo! I cannot believe it!!! Well so that is my story about my ring fantasy that came true!!!!

Hello,

Thank-you for sending in your rave review of your wooden wedding ring! Our readers would also love to know how the ring has lasted overtime, and what type of special care the ring may have required.

You will be glad to know too that most wooden wedding rings are made from salvaged wood or wood from responsibly managed forests - as wooden wedding ring companies tend to take eco-friendly considerations seriously when they create their rings. Some wooden ring designers also plant a tree for every ring they make : )

If you have a pic of your ring too we would love to see it!

- Suzanne