Beloved old beauty - but how old?
by Katherine
(Bethesda, Maryland)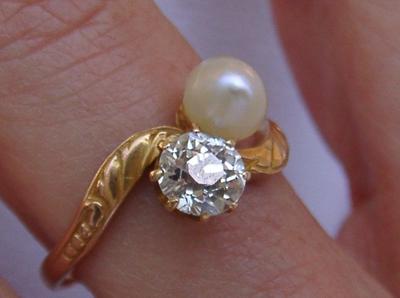 I love this ring no matter what its age, but after stumbling across your website, I thought I'd ask your thoughts on it.

My fiancé was sold this ring as Art Nouveau, 18k rose gold, made in circa 1910. The gold is peachy, rather than pinky, and there are 8 prongs instead of 6. Its shank is unmarked and irregular (left and right shoulder lines don't match up and neither does the engraved pattern) so I believe it was handmade rather than stamped from a mold. It's diamond was described as Old Mine Cut and a it has a lovely natural pearl which is sugar-loaf shaped rather than round.

I'd love to know your thoughts on it. I am not confident that the seller's estimated date of 1910 is accurate because by that time the Tiffany 6-prong may have been quite popular, and somehow the look of this ring should have been unfashionable by then. I wonder if you would estimate it closer to 1890?

Thanks so much.



Hi Katherine,
The style of this ring is known as 'Toi et Moi' French for 'You and Me' - there is a lovely representation of this style of ring and added information on 'Toi et Moi' rings on this
Possible Victorian Ring
page at EWR.
Toi et Moi rings were quite popular during the late Victorian Age and more so during the Art Nouveau period.
Because lower karat gold was more commonly used in rings during the Early and Mid-Victorian years and larger diamonds were not commonly used in rings until the Late Victorian Period and Art Nouveau age, I think the jeweler provided a correct estimate on the ring.
Art Nouveau rings were crafted between approximately 1890 to 1915, during this time period rings were made with larger diamonds and higher karat gold alloys. Rings during this age too are notable for their flowing naturalistic designs and handcrafted tooling which your ring definitely represents.
While it is impossible to say when exactly this ring was made, because it is such a strong representation of the Art Nouveau jewelry movement, and because of the higher karat gold and larger diamond, it was most likely crafted during the mid to later Art Nouveau period.
I hope this information is helpful and thank-you for sharing such a beautiful antique ring with us!
Suzanne Gardner
Everything Wedding Rings