Wondering which Era my ring is from?
by Kaley
(New Berlin, WI)
I am trying to find out more information about my engagement ring! I have done some research and narrowed it down to either Art Deco or Edwardian. It has very intricate design and has a platinum band. There is a lot of small filigree of flowers and leaves on the side that you can barely see. Attached is a picture and was wondering if anyone had any info on it. Thanks!


Hi Kaley,
Thank-you for sharing this absolutely ravishing ring with us! It is just breathtaking!
Based on the style and your description of the ring, if it is a genuine antique it is most likely from the Edwardian era.
The marquise boat shape of the ring, use of filigree, natural flower and leaf motifs plus the intricate designs, diamonds and platinum metal are all classic hallmarks of Edwardian rings.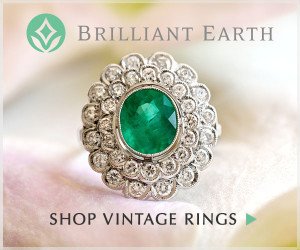 This design in particular is very representative of the ring styles during early Edwardian times right after the turn of the Century – a design influenced by rings of the late Victorian era in which the marquise shape was especially popular, and filigree combined with nature-inspired themes became all the rage.
Rings crafted in the early Edwardian years took filigree to a whole new level of art and workmanship, defining what we know as filigree today – and the results were enchanting lace-like metal effects that represented the very best of the term used to describe this time: Belle Epoque – the Beautiful Age.
Art Deco rings display a much more geometric flair, with some Art Nouveau influences, and by the Art Deco period the large eye catching marquise boat shape ring design had pretty much gone out of style.
With all that being said, Edwardian style rings made a huge comeback during the 1950s and again in the 1980s when vintage styles in all things – furniture, clothes and jewelry – were at the height of popularity. If you are not sure that the ring is an antique, it is possible that it could be a very good Edwardian reproduction.
To find out for sure, it is best to have the ring analyzed and appraised by an experienced antique jeweler. If the ring is an authentic Edwardian ring, and in excellent condition (which it seems to be from the picture), it could be worth quite a bit – and should be insured if it is not already.
If you do have the ring assessed by a professional jeweler in your area, do let us know the results – congratulations on such an amazing ring find and your engagement too!
Suzanne Gardner
Everything Wedding Rings