Ring Stamp? What does this symbol mean?
by Tina
(Florida)
I have a ring, and I'm not sure if it is a diamond or not, but the band is 14K gold. There is another mark next to the 14K gold stamp that looks like a C O and a T - the T is inside of the O or the T may be an I.

I am just not sure and I am wondering what that symbol means. Any help? It almost looks like a bug or a bull. But that's because I have no idea what it is.

I uploaded a picture of what it looks like a drawing in paint..not that great but I can't take a picture of the ring cause it's obviously a small stamp.



Hi Tina,
This is definitely a maker's mark - a unique symbol which is used to identify a jeweler's work or a jewelry company's product. Finding out who the maker's mark belongs too though could take quite awhile.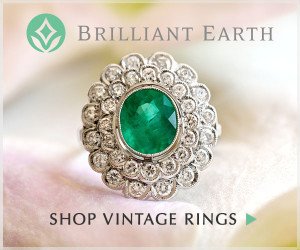 A jeweler's maker's mark does not need to be registered in the United States by law, although most jeweler's register their maker's mark with the United States Patent and Trademark Office to ensure that no one else can copy or use their unique symbol.
Because a maker's mark does not need to be legally registered, and because there are tens of thousands of these marks, at this time there is no one book or resource where you can go to look up a maker's mark.
There are extensive books on identifying maker's marks for antique pieces of jewelry, but if your ring was made in the last 20-30 years it can be difficult to locate who made the ring.
You can make a copy of the mark and then visit professional jewelers to see if they are familiar with the mark - even a pawn shop or used jewelery store could possibly provide helpful information on the mark.
You could also try a search with the
U.S. Patent and Trademark Office
to see if the mark is registered - but this type of search can take a huge amount of time and may not yield any results.
I wish I could provide more helpful information on the mark - but this is a problem with recent maker's marks. With no comprehensive resource to find a mark (except for the U.S. Patent and Trademark Office) it makes it difficult for people to find out the origins and history of their jewelry pieces.
Good luck on your search, and I hope that you can find out more information about the ring.
Suzanne Gardner
Everything Wedding Rings