Designer Celtic Wedding Rings
by
Reflective Images



Reflective Images specializes in designer Celtic wedding rings and engagement rings (plus Celtic jewelry pieces) handcrafted by talented jewelry artists. With a variety of Celtic ring styles, reasonable prices and a firm commitment to customer service, environmental ethics and superior craftwork, this jewelry company is one of the top Celtic jewelry designers and creators worldwide.
To find out more about about this designer wedding ring company, including styles, prices, ethical standards and policies, take a look at the info below!


EWR's Favorite Designer Wedding Ring Picks!


Company History
Founded in 1995 by Helen Chantler and Marc Choyt in Santa Fe New Mexico, Reflective Images has quickly risen to a world renowned designer jewelry company famous for artistic expertise and unsurpassed quality. Today, the company employs a small group of talented metal smiths and designers.
Designs and Styles
Jewelry artisans employed by this outstanding company have created a huge selection including hundreds of men's and women's Celtic wedding rings and engagement rings.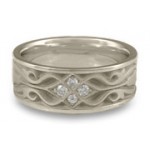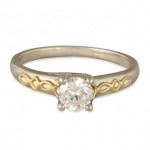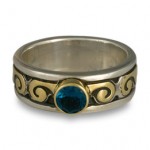 Styles for men and women include rustic bands, contemporary designs – including wave bands and Trinity rings – twist metal work and designer Celtic engagement rings which seamlessly intertwine Celtic knots with set gemstones and diamonds.
Rings are available in metals which include sterling silver, 14K white and yellow gold, 18K white and yellow gold, two tone gold, palladium and platinum.
Wedding and Engagement Ring Prices
Prices for wedding and engagement rings range from less than $1,000 dollars to over $5,000 dollars depending on the style, band metal, and gemstones or diamonds incorporated into ring designs. Rings can be ordered either online or in person through the Santa Fe business location.
Ethics
Reflective Images has always had strong eco-friendly and ethical/fair trade policies. All Celtic jewelry pieces are made with recycled metals and the company is a supporter of the No Dirty Gold campaign. Rings are made with conflict free diamonds and ethically sourced gemstones. Additionally, the company has received numerous awards including the 2008 City of Santa Fe New Mexico 'Business of the Year' award and the 2010 Jewelers That Care 'Retailer of the Year' award.
Return Policies
Most items can be returned for a full refund as long as the order is sent back within 30 days (and in original condition), although custom orders cannot be returned for a refund. Some types of wedding rings are also charged a restocking fee if they are returned.
To view the stunning selection of men's and women's designer Celtic wedding rings, wedding bands and engagement rings visit the company website at: http://www.celticjewelry.com.
Return from Reflective Images Designer Celtic Rings to Designer Wedding Bands

or

Return to Everything Wedding Rings Home