How to Tell if Morganite is Real or Not?
by Em
(NY)
When you are shopping for morganite engagement rings, how do you know if the ring has a real stone or not? You said to be aware of people who will sell you pink glass...any markers to tell if it's the real deal or not? I'm glad to hear morganite is durable because once I saw this stone, I wanted it for my engagement ring : )



Hi Em,
The only way to definitively know if the ring you purchase contains a real morganite is to either purchase a ring that comes with a certification on the stone from a reputable laboratory (such as the AGS or the GIA) or have the ring evaluated by a local jeweler – a quick check under the loupe is all it takes for a professional jeweler to recognize cut glass.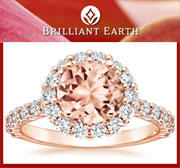 That being said, here are a few additional tips that will help to ensure that you purchase an engagement ring made with an authentic quality morganite gemstone:
Stick with reputable companies and/or jewelers. If you are shopping for your ring online, be especially vigilant – check the history and reputation of the seller and make sure the ring comes with at least a 30-day return policy.
Keep the price of a quality morganite gemstone in mind. A morganite gemstone that is a desirable color (deep pink), good cut and high clarity rating over one carat in size is an average price of $300 dollars (that price is just for the gemstone and does not include added costs associated with a ring such as band metals and design).
So, if you find a morganite ring that supposedly contains a superior morganite for a low, low price – chances are you are looking at a ring made with cut glass.
I hope this info is helpful. And if you do not have an engagement ring in mind, I would recommend checking out the artisan handmade morganite rings available through
etsy
. A few artists there create some really unique and beautiful morganite rings made with eco-friendly materials!
Suzanne Gardner
Everything Wedding Rings
Question about Morganite Gemstone
Will the morganite stone lose its color and luster over time?

Hello. True morganite gemstones will not lose their color over time. All gemstones which are worn regularly may lose their luster - but a professional clean and buffer treatment will restore the gemstones to their original shine.

Morganite is a member of the beryl family - which also includes gemstones like aquamarine and emerald. Naturally, it is found in a variety of shades ranging from light-light pink to a deep peachy color.

The color of a natural morganite - no matter how light or dark - will not change with time. Just like a green emerald stays green, so does a morganite gemstone.

Some morganite gemstones are heat treated to remove tones of yellow, or to bring out the peachy color of the gemstone, but this treatment is permanent and will not fade with time.

Because morganite is a durable gemstone, and not prone to fading when exposed to sunlight, it is a particularly excellent choice for a gemstone engagement ring.

Just make sure that the morganite you purchase is authentic morganite. Synthetic gemstones may not have the same performance as morganite - and these could possibly fade or lose their color and luster with time - plus they are not valued as highly as morganite.

I hope this information is helpful, and do write back if you have any additional questions about morganite -

Thanks!

Suzanne Gardner