Looking for ring like my ArtCarved wedding band - purchased 1973
by Phil
(Nashville, TN, USA)
The wedding band you have pictured in your article - "The History of Wedding Rings" is the closest thing I've seen to my wedding band. What do you call it, please? My wife and I had matching wedding bands, until hers was stolen by someone at her work. I was hoping to find a replacement ring - in silver or white gold - but any silverish ring material will do. It is more the pattern and the thought than the material. (My wife doesn't care for yellow gold).

Thank you!


Hi Phil,
So sorry to hear about your wife's ring. This type of wedding ring style is called a 'Laurel Leaf Wedding Ring' or an 'Engraved Laurel Wedding Ring.'
Unfortunately, it can be difficult to find an exact replacement for an ArtCarved ring because they have created so many styles in their over 150-plus history. You can try to bring a picture of the ring to an ArtCarved retailer to see if this type of style is still available.
Two other options include locating a similar styled band through another jewelry retailer or you can commission a jewelry artisan to craft the ring.
Handmade, hand-carved rings such as this one pictured above are often priced comparably with rings that you would buy from a retailer. So, working with a jeweler to create a replica of your wife's ring may be a perfect solution - and since you have the matching band, a jeweler artisan would be able to replicate the style perfectly.
Alternatively, I have two recommendations for rings which have similar styles available through two of my favorite wedding ring retailers.
The first is by Brilliant Earth and is the Diamond Platinum Leaves and Buds band available in platinum and 18k yellow gold. (Click on the picture below to go to the page with the ring).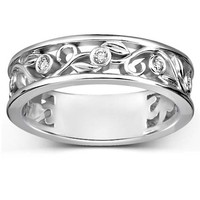 You can also use the
Custom Design Ring Service
available through Brilliant Earth, and work with BE's team to design a customized ring that matches the style you are looking for.
My second recommendation for a ring in the engraved laurel leaf style is available through Gemvara and is the Cornice Band (pictured below) available in 18k and 14k rose gold, yellow gold and white gold, silver, palladium and platinum. Just click on the picture to visit the page with this band style.
Sometimes, it is possible to find an antique wedding ring in this style too - but it could take some time to find one. If you would like to replace the ring within the next few months, a custom option may be the best choice for an identical wedding band match.
I hope that through these recommendations you will be able to find a replacement for your wife's ring. Good luck on your search too!!!
Suzanne Gardner
Everything Wedding Rings