Iolite Ring Value
by Florence
(Missouri)
I purchased a second hand iolite ring, deep blue color, 2.5 carats, emerald cut set in 10K gold with matching earrings for $270. Did I overpay?



Hi Florence,
Thanks for sending your question in to Everything Wedding Rings! Unfortunately, we are not able to provide exact price info on rings and gemstones online.
There are just too many variables - especially with gemstone rings - that can affect price, and without seeing the ring it would just be a shot in the dark type of estimate. Sometimes we can offer advice on clues that can reveal whether a gemstone is authentic, or how much a crack or certain feature can affect the price, and on some rings when pics are included we can offer details on eras the rings may be from - but when it comes to offering advice on specifics when it comes to price we have limited capabilities...especially when no pics of the rings are available, but even then pics cannot reveal the finer details which are needed to truly value a gemstone's quality.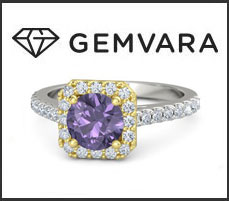 With iolite, cut can have a huge impact on the gemstone's value - clarity is a secondary valued characteristic followed by color and lastly carat size. Whether the gemstone in the ring has had a custom cut - or just a regular machine cut - and whether or not the gemstone has any blemishes or inclusions will be a big determining factor on the value of the ring and earring set you purchased.
I can tell you that because the ring is 10k gold, the gemstone is probably going to be a medium quality gemstone. Most gemstones that have a stellar cut and high clarity/color characteristics are set in higher quality metals - like 18k gold, platinum or palladium. Rarely do you see a high quality gemstone set in mid-range quality metal alloys.
However, the price you paid for the ring and earring set - even with a mid quality gemstone - doesn't seem like it would too much. Particularly because as you mentioned the iolite color is a deep blue which is a desirable color. If the gemstone has secondary dark blue or violet colors when it flashes in the light, this is also highly desirable and can increase the value of the gemstone. Added to that, it is a matching ring and earring set - which can be difficult to find.
If you truly would like to know how much the set is worth - the best thing to do is to take the set to a local certified gemologist appraiser who has a certification from either the Gemological Institute of America (GIA), the American Gem Society (AGS) or the American Society of Appraisers.
Good luck, and if you do have the set appraised we would love to hear back from you!
Thanks : )
Suzanne Gardner
Everything Wedding Rings