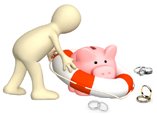 Plenty of inexpensive wedding rings are out there. The challenge though is to find rings that are durable, made with excellent craftsmanship and which fit the style of your dreams. To find out how you can find the perfect affordable wedding rings that will last a lifetime - for the right price - just use these tips and recommendations below.
And if you have any questions at all about rings that may have caught your eye, need a second opinion, or you would like to share pics of your affordable wedding rings with our visitors, use the handy comment box is at the end of the page!

Inexpensive Wedding Rings - Where to Start?
The best place to start when you are looking for affordable rings to fit your budget, and taste, is with style.
If you are set on traditional wedding ring styles then your best options are:
Rings made with Diamond Simulants
Rings made with Affordable Diamonds

If you are open to unique types of wedding ring styles, a lot more choices are available - including gemstone wedding rings, rings made with contemporary metals like tungsten, titanium and cobalt.


The Best Metals for Affordable Wedding Rings
There are plenty of cheap wedding rings out there - but many of them are, sadly, not made with durability and longevity in mind. And couples that need to save money on their rings can sometimes end up spending more if they need to pay costs for replacing the rings down the road, replacing lost stones or repairs.
The best metals to stick with for durable and affordable rings include (in order of low cost to high cost):
Newer metals like Tungsten and Titanium

Silver
10k Gold (*)

Tungsten and titanium are excellent options for discount men's wedding bands, and for modern women's engagement rings. But because these metals are so strong, they cannot be crafted into traditional women's wedding ring styles so design selections in these metals are somewhat limited.
Silver is an excellent metal for inexpensive wedding rings - but make sure you stick with sterling silver wedding rings. And, because silver is such a popular metal for low cost rings, you'll want to make sure the rings are made with good workmanship. Look for handcrafted bands that have a solid weight and thickness to them and which are backed with a guarantee. (Silver rings do need special care, but if the rings are made by a skilled hand they can be quite durable).
Palladium is an excellent metal for wedding rings in a medium price range. Palladium wedding rings are often priced lower than gold, and are definitely more affordable than platinum rings. An extra plus with palladium too is that the beautiful white color of the metal does not require any need for rhodium plate - unlike white gold.
Rings made with 14k gold are another terrific option - although any type of white gold will need to have a new rhodium plate applied about every one to two years. If you would like to forgo the rhodium plate, consider 14k rose gold rings or traditional 14k yellow gold rings.
Although many 10k gold rings are available for lower priced wedding rings, couples need to take care when shopping for 10k rings. Make sure the rings are made well, comes with a guarantee and that any diamonds are certified.


What about Affordable Diamonds and Gemstones?
Take a look at our page about inexpensive engagement rings! You'll find the best options for affordable diamond rings and affordable gemstone wedding rings - plus really important need-to-know info about diamond simulants and synthetics that will ensure you find a quality made ring with a center stone that will last.




Shopping Tips and Recommendations for Inexpensive Wedding Rings
One very important tip for any ring is to avoid any type of plate - with rhodium plate being the one exception. Beware of brass bands plated with silver, silver bands plated with gold and decorative black plate on titanium and tungsten rings.

Remember, any type of plate on a wedding ring is less than the width of a human hair - and plates will often begin to chip and wear away within a matter of months with every day wear. (A new fad that has been appearing lately is silver plated with rose gold, again - the beautiful rose gold plate on these rings will wear away quickly).
Stick with retailers (and you'll find our recommendations below!) that offer rings made with a return or exchange guarantee and certified diamonds.
When shopping for rings, take time to comparison shop and note that many online wedding ring retailers can offer substantial savings compared to brick and mortar stores due to reduced overhead.
Costs for rhodium plate applications can add up over the years - if you want to save money over the long run, stick with rings made with yellow/rose gold or with palladium, silver, tungsten, cobalt, stainless steel, or titanium.

Flexibility on style can really save you a ton on wedding ring prices - especially if you are open to contemporary styles and rings made with gemstones instead of diamonds.
Even affordable diamond rings need to come with a diamond certificate from a reputable laboratory. This certificate is your only guarantee that the diamonds are real - additionally, uncertified diamonds make up the largest portion of the conflict diamond market. Ideally, diamond certifications should be issued by either the GIA, AGS, IGI or the EGL.


Top Recommendations for Quality Inexpensive Wedding Rings

Now for our best recommendations on quality, affordable rings!
Zales is an excellent resource for quality, affordable diamond wedding ring sets in 14k and 10k gold. But you do have to keep a sharp eye out here. While many rings are made well and with durable materials, a few of the Zales ring styles are crafted with plated bands - so make sure to read the entire description of the ring before you buy.
Brilliant Earth has recently expanded its antique, vintage and modern used rings collections. Often, vintage and used affordable diamond ring sets are available in stunning styles for less than $2,000 dollars.
Auction sites like eBay can also be a terrific source for gently used rings - just remember to shop with caution on sites like eBay. Make sure diamond rings come with a diamond certification.

Gemvara carries an amazing selection of gemstone engagement and wedding rings in a huge range of prices....some even in the under $500 dollar range. And these rings are handcrafted and backed with a guarantee. Plus, Gemvara has an easy to use shopping system where you can quickly sort out ring styles by your price range.
Turtle Love carries some beautiful sets in the under $500 dollars range crafted in unique and modern styles. And, all rings here are handcrafted with exceptional workmanship plus made entirely with eco-friendly metals too.

Diamond Nexus rings are made with strong patented simulants that are much stronger than cubic zirconia and come with a triple lifetime guarantee. For inexpensive rings in the under $2,000 range with a large center stone and plenty of flash and fire, DN is an ideal choice.

We sincerely hope that the info here will help you to find the perfect ring for the right price! And remember, if you have any questions, comments or would like to share pics, just use the comment box below.