Searching for engagement rings under 500 dollars? You've come to the right place! Just use our handy guide below to find the best metals, gemstones and materials for inexpensive engagement rings, and take a look at our shopping tips too for precautions that will help you to find long lasting, durable rings for the right price.
Remember, couples looking for an affordable engagement ring do not have to sacrifice on style or quality - follow the guidelines below to find your perfect ring for the right price. And if you have any questions about engagement rings in this price range, send them in through the comment box at the end of the page!


Best Metals for Engagement Rings Under 500 Dollars
With a budget of under $500 dollars, you'll need to shop wisely - but there are plenty of options to choose from.
The best metals to stick with for very affordable engagement rings include:
10k yellow, rose or white gold


Sterling silver



Palladium
Rings made with14k or 18k yellow or white gold are usually priced above $500 dollars, particularly for engagement rings that come with set stones but sometimes it is possible to find rings crafted with 14k on the higher end of the 500 dollar spectrum.



10k Gold Engagement Rings
10k gold is great choice for low cost engagement rings, but with this metal you will need to be a savvy shopper. Because this is a low cost gold alloy, rings crafted with 10k gold can sometimes be made with lower quality workmanship. Stick with reputable retailers who offer guarantees on their products, and select 10k gold bands that have a good weight and thickness to them.


Sterling Silver Engagement Rings
Sterling silver is a lovely choice for engagement rings under 500 - but keep in mind that this metal will need special care. It is not as durable as palladium or 10k gold, so if you do decide on a sterling silver ring be sure to treat it with a little extra TLC.
Beware of sterling silver rings that are crafted with yellow or rose gold plate, and brass or copper rings that are merely made with silver plate. Any plate on every day wedding rings will chip and wear away within a matter of months if not weeks.


Palladium Engagement Rings

Palladium is durable, wears well with time and looks gorgeous. Palladium is also a precious metal, but it is usually much less expensive than gold because of its feather light weight - and another big pro for palladium is that it does not require rhodium plate. The major downside to palladium is that it can be difficult to find palladium engagement rings. Although Gemvara is a great place to start as you can find an extensive selection of diamond and gemstone palladium engagement rings here.




Titanium, Tungsten, Cobalt and Stainless Steel Rings
While tungsten, stainless steel and titanium offer plenty of durability for a low price, engagement ring styles are extremely limited in these types of metals. This is because the metals are so hard that they literally cannot be formed into the intricate designs that most styles for engagement rings require. Simple band styles at this moment are really all that is available in these metals. But, if you are also looking for Discount Men's Wedding Rings these contemporary metals are perfect for affordable men's wedding bands. 

Best Stones for Engagement Rings Under 500 Dollars

Is it possible to buy a beautiful ring with a large center stone for less than 500 dollars? Yes - if you are willing to go with either colorful gemstones or laboratory created simulant diamonds.
There are two problems when it comes to engagement rings under 500 dollars made with real diamonds:
1. The diamonds are really, really small - and almost look like little diamond chips. Keep in mind that even a .30 carat diamond that has medium color, clarity and cut characteristics is priced on average at around $600 to $800 dollars.
2. Larger diamonds that are priced extremely low have very poor color, cut and clarity grades. This means that the diamonds will show a yellow or gray tint, will reflect light badly and may have so many blemishes and inclusions that the integrity and durability of the diamonds is jeopardized.
White laboratory created synthetic diamonds which have the same exact characteristics as real diamonds cost just as much, if not more, than the real thing. And synthetic color diamonds are usually out of the 500 dollar price range too.

With that in mind, here is a run-down on the best stones for long lasting and affordable engagement rings


Diamond Nexus Simulants
Diamond Nexus Simulants are definitely the best option if you are looking for a traditional diamond engagement ring style with an affordable price. Out of all the simulants, Nexus diamonds look the most like real diamonds plus they are extremely strong (much stronger than cubic zirconia) and come with a lifetime guarantee. And, at DN you can find a selection of rings in this price range in DN's 10k Value Engagement Ring line.

Moissanite Simulants
Moissanite Engagement Rings are crafted with lab created synthetics of real moissanite, which is an extremely rare gemstone. Synthetic moissanite has the exact same properties of real moissanite: it is extremely strong and has radiant high brilliance and fire characteristics. Moissanite does not look exactly like a diamond though, and has just a slight color tint to it - but many couples love the look of this stunning gemstone. The only downside to moissanite is that it can be challenging to find a decent sized carat moissanite engagement ring in this price range.

White Sapphire

Natural and laboratory created white sapphire can take the place of a diamond simulant - white sapphire is extremely strong, one of the strongest gemstones, and displays radiance and fire properties that are only slightly lower than a diamond. Laboratory created white sapphire is much more affordable than natural sapphire, but either gemstone will work. Diamond Nexus and Moissanite though are closer diamond-looking simulants than white sapphire.

Cubic Zirconia

Cubic Zirconia Engagement Rings are an option if couples are searching for very, very low priced engagement rings, but couples need to be aware that a CZ stone will only last about 2 years at best with daily wear. CZ also does not resemble a diamond as much as Diamond Nexus or Moissanite.


Affordable Gemstones
There is a long list of affordable gemstones - and plenty of synthetic rubies and emeralds on that are available for affordable colorful engagement rings. Here are the most affordable, and durable, natural gemstones:
Aquamarine


Red Garnet


Blue Topaz


Smoky Quartz


Citrine


Peridot


Amethyst


Morganite


White sapphire


Some types of pearls

If you are interested in finding out more about these gemstones, just check out our Gemstone Engagement Rings page!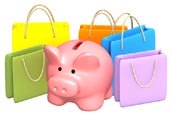 Shopping Tips for Engagement Rings Under 500 Dollars
Now that you know what to look for when it comes to inexpensive engagement rings, here are some extra shopping tips to keep in mind to make sure you find the right ring for the right price:
If you buy rings made with cubic zirconia, diamond simulants or gemstones, follow special care instructions to make sure the stones stay in top condition for years to come.
White gold engagement rings always come with a Rhodium Plate that will need to be re-applied from time to time to maintain the reflective white appearance. Couples on a budget may want to consider this extra maintenance cost for the ring before buying.

Take time to read the fine print of ring descriptions. I have seen many low priced engagement rings for sale on the Internet, and after hunting down the information to see exactly what the ring bands were made from it turns out a lot of bands were copper or brass plated in rhodium or silver plated with yellow or rose gold. 
Copper, brass and tin bands with rhodium plate are extremely cheap, and will end up costing you more in the long run (because the band will need to be replaced shortly after purchasing the ring) – plus, when the rhodium plating wears off the copper can cause a green finger ring. It can't be emphasized enough - avoid these types of rings like the plague!