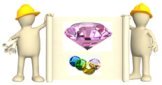 Pink diamond engagement rings shine with the romantic luminous brilliance of some of the rarest diamonds in the world. If your heart has been captured by these beguiling fancy color diamonds, use the handy info below to find the perfect pink engagement ring of your dreams.
Here you will find the properties of pink diamonds, how fancy color diamonds are graded and certified, affordable alternatives to natural pink diamonds, where to find real loose pink diamonds plus essential shopping tips.
And if you have any questions about pink diamond engagement rings, just use the comment box at the end of the page to send in questions, comments, reviews or pics to share with future visitors!

Pink Diamond Properties
Natural pink diamonds have properties which are quite similar to colorless diamonds. Along with exceptional light refractive characteristics which contribute to dazzling flash and fire, these diamonds also have a perfect Moh's hardness rating of 10.0 - and pink diamond engagement rings will definitely hold up to the test of time.

The great mystery about pink diamonds is what causes the pink color. In other types of fancy color diamonds like yellow and blue diamonds, the color change is caused by impurities from other elements like nitrogen or boron.
Today, scientists are zeroing in on a theory to explain the great pink diamond mystery - which includes a disruption or imperfection in the crystal lattice of the diamond - but for now pink diamonds are still a puzzle waiting to be solved.


Certifying and Grading Pink Diamonds
Fancy color diamonds are weighed, mapped and graded just like colorless diamonds in terms of cut and clarity.

The main difference between a fancy color diamond certification and a colorless diamond certification is the color grade.
Only a few laboratories at this time specialize in issuing a separate color grade for fancy color diamonds - including the Gemological Institute of America (GIA) and the International Gemological Institute (IGI).

The separate color grade is issued based on color characteristics including hue, tone and saturation. The labs will also examine the color to assess whether the color is natural or if the color has been artificially enhanced.
Because fancy color diamonds are valued so highly, if you are searching for pink diamond engagement rings made with natural pink diamonds it is best to stick with rings crafted with GIA or IGI certified fancy colored diamonds. Likewise for natural loose pink diamonds, play it safe and stay with GIA or IGI certified diamonds.
Cut and clarity grade parameters to look for in quality pink diamonds include:
A cut grade of Ideal/Excellent to Good


An eye clean clarity grade of SI2 and above


Values and Prices for Loose Pink Diamonds
Pink diamonds, along with blue diamonds, are some of the rarest of the fancy diamond colors – and as a result of their rarity, natural pink diamonds command some of the highest per carat prices.
Prices and values of loose natural pink diamonds will depend highly on the color followed by the carat size and clarity/cut grades.
The most desirable pink diamonds are a consistent pink color with secondary white flashes – and the value of these diamonds will increase as the color becomes darker and more saturated.
Pink diamonds are classified with a diamond color rating, from lightest to darkest as:
Light fancy pink


Fancy pink


Fancy intense pink


Fancy vivid pink
As an example of how color can affect the value of pink diamonds, a 1-carat light fancy pink diamond is on average around $70,000 and up while a comparable 1-carat fancy vivid pink diamond is on average around $200,000 and up.

Pink diamonds that have secondary brown colors, underlying brown tones, or a washed out pink color are priced the lowest - generally at around a few thousand dollars a carat.


Affordable Alternatives to Pink Diamond Engagement Rings
Unfortunately, pink engagement rings made with natural pink diamonds are priced above most couples' budgets. But luckily there are plenty of affordable alternatives that showcase a charming pink color without the sky high price tag!


1. Pink Color Enhanced Diamonds
Enhanced pink diamonds are colorless diamonds which have been treated to permanently change the color of the diamonds through heat/pressure treatments or irradiation. These are real diamonds, but they are priced much, much lower than natural pink diamonds.


2. Man-Made Synthetic Pink Diamonds
Man-made synthetic pink diamonds have the same exact physical and chemical characteristics as natural pink diamonds – the only difference is that they were made in a laboratory instead of in nature! (*Not to be confused with simulants like cubic zirconia which do not have the same physical or chemical characteristics as real diamonds).
These diamonds can be ordered loose and mounted by a jeweler, or sometimes it is possible to find a manufacturer of synthetic fancy color diamonds that will set the diamonds in a ring style of your choice too.
3. Pink Gemstones

A pink engagement ring can also display a durable yet exquisite pink gemstone. The three top pink gemstones which are strong enough to hold up to every day wear engagement rings include pink sapphire, pink watermelon tourmaline and rose quartz.