Krikawa
Designer Engagement Rings
and
Wedding Bands



Krikawa is the place to start if you are searching for a unique wedding band, or a designer gemstone engagement ring with major bling. With exquisite rings made in a variety of styles, and featuring large choice cut gemstones and diamonds, this designer jewelry company takes handcrafted rings to a whole new level.
Company History
The founders of the company, Lisa and John K., have combined their talents and education in technology, art and jewelry design to create a truly unique and cutting-edge jewelry business. Based in Tucson, Arizona, this young family business has already won numerous jewelry awards – particularly for innovative design.
EWR's Favorite Designer Wedding Ring Picks!

Wedding Ring Designs and Styles
With a wide selection of unique designer wedding bands, engagement rings and custom design options, the sky is the limit. You can choose from their huge selection of contemporary, luxury (here is where the bling comes in), artistic (light and lacy metalwork), vintage, floral and mokume-gane selections or talk with the jewelry designers (either in person or online) about a custom made ring. Below are just a few of the styles you'll find at this amazing wedding ring designer company.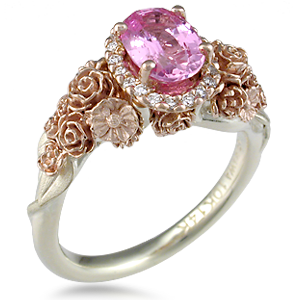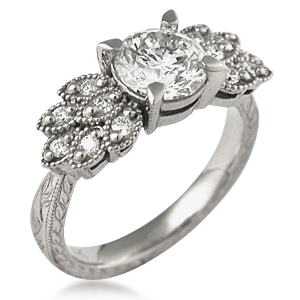 The engagement ring selections feature a stunning collection of diamond cuts, settings and gemstones including sapphires, rubies and other types of birthstones. Bands are available in platinum, palladium, 18K yellow gold, 14K white gold and 14K rose gold. All rings can be customized to include mokume-gane bands, band metal of choice and personal gemstone selections.
Ring Prices
Ring prices vary widely depending on the style, metal and gemstones or diamonds used to create the ring. Bands are generally $1,000 plus dollars with mokume-gane wedding bands usually over the $2,000 dollar price range. Engagement rings are priced between less than $1,000 dollars to well over $10,000 dollars.
Ethics
In addition to top-notch handcrafted wedding and engagement rings, this company has a strong commitment towards environmental ethics too. Krikawa is on the (still too small but growing) list of companies who have signed on to support the No Dirty Gold campaign, and they have a strict conflict-free diamond policy – plus they use fair trade gems in all gemstone ring designs.
By request, customers can receive wedding and engagement rings made from Harmony Metals – a recycled precious metal supplier – and this wedding ring designer is also a member of the Council for Responsible Jewellery Practices.
Return Policies
All rings are made as they are ordered - and couples may either visit the company shop in Arizona or order wedding and engagement rings online. A full money back guarantee comes with each ring purchase, as long as the ring is returned within 15 days after arrival.
Visit http://www.krikawa.com to view an amazing selection of handcrafted designer engagement and wedding rings.



Return from to Designer Wedding Bands

or

Return to Everything Wedding Rings Home