Turtle Love Co. offers a beautiful selection of handmade unique engagement rings, wedding bands and wedding ring sets - each a crafted masterpiece which reflects the commitments and philosophies of a jewelry company based on solid eco-friendly ethics plus the highest standards of artisan workmanship.
To find out more about this amazing wedding ring designer, including history, ring styles, engagement ring prices and more, check-out the info below. You can also leave reviews and share pics of your TL rings through the comment box at the end of the page!


Company History
Founded in 2009 by Adrianne Zahner and based in Portland Maine, this dedicated company works to support independent jewelry artists who specialize in handcrafted wedding rings, engagement rings, earrings and necklaces. To date, over a dozen talented artists contribute to the engaging line of artisan jewelry pieces featured on the company's website.
Recently, TL has also begun a yearly contest for artisan jewelry designers - and the winners have their designs showcased on the company's website.


Styles and Designs
Designer men's and women's handmade wedding bands and engagement rings are available in a number of styles from artisan to contemporary to classic designs. And with each ring order, couples will know the artist who will be working on their handcrafted rings - and when the rings will be completed (in most cases, rings are finished in 3 weeks).

Metals and gemstones used to create these selections include: sterling silver, rose gold, 14K yellow gold, 14K white gold, diamonds, black diamonds, green tourmaline, blue topaz, white topaz, amethyst, citrine, garnet, pearl, and sapphire.
Styles include hammered bands, satin finished bands, elegantly carved bands, contemporary designs, engraved designs, laurel leaf bands, textured bands and matching sets.
Handmade gemstone rings are made with pronged and nested settings and include gemstones of small to large sizes. Matching bands too are available for couples that would like wedding rings with similar or identical styles.

And for an extra unique touch, TL is now offering gold and silver wedding rings with an engraving on the inside of the band in your own handwriting!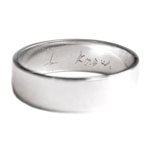 TL often keeps a small collection of vintage wedding rings available for sale too, mainly from the 1950s Retro period - but sometimes earlier pieces from the Art Nouveau and Art Deco eras are included in the selection of vintage rings.


TL Wedding Ring Prices and Reviews

Wedding and engagement prices depend on the types of metals and gemstones used to create the rings, but the majority of rings available are in the $100 to $3,000 dollar price range – with a large selection of rings between the $200 to $800 dollar price range.
Vintage wedding rings available at TL are also quite affordable with prices in the $500 to $3,500 dollar range.
I searched high and low, but could not find one negative review about TL's handcrafted engagement rings and wedding bands. This is a small locally run business that caters exclusively to each client - because of its size, and handcrafted artisan touch to every ring, TL ring designers are able to devote the time and attention to each piece to ensure the highest level of details and workmanship.
Couples report that their rings arrived on time and that the workmanship of the rings were actually higher than they had expected - especially for handcrafted wedding bands and engagement ring sets that are priced so affordably. And customer service reviews for this ring designer company are in the 4.9 to 5 star range.
The only downside reported is the limited selection of ring designs available - but as this is a small company with a focus on artisan wedding rings, a smaller design selection is expected.